Business Administration / Anadolu University - SUNY Empire State College
University in Turkey
:
Anadolu University
University in America
:
SUNY Empire State College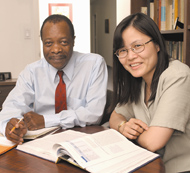 This program is offered by Anadolu University (AU) and SUNY Empire State College (ESC). Both institutions have admitted students since 2010. Students study at Anadolu University, with the option to travel to the U.S. for short-term study (pending approval of the appropriate visa and availability of required courses). Costs for international and local transportation, lodging, meals, and study materials are not included in the tuition.
Students complete approximately three years of study toward their bachelor's degree with AU and one year of full-time study with ESC. Studies with ESC begin after the successful completion of admissions requirements, generally after the first year. Credit at both institutions is mutually recognized, and each issues its own diploma and official transcripts. Anadolu University and Empire State College each issue transcripts with courses from both institutions. Credit must be earned at the C- level, or higher, and students must maintain a grade point average (GPA) of 2.0 or higher to remain in the program.
Transcripts list courses from both institutions. The Anadolu courses are classroom-based, while the ESC courses may be offered online or in a blended format combining face-to-face contact with teaching faculty with online learning. Depending upon class size of (at least 10 students), ESC instructors meet with students at the AU campus once per term. In between residencies, students work with instructors through guided, online learning. This model is called blended learning, which is widely accepted in American colleges and universities. A mentor is assigned to each student and provides additional support through advisement as well as academic and student services.
The language of instruction is English. To be admitted to the program, students must receive a minimum TOEFL score of 550 on the paper-based exam, 213 on the computer-based exam or 74 on the TOEFL (iBT) Internet-based exam. IELTS scores of 6.0 or higher are also accepted. Those who cannot achieve English language proficiency attend a preparatory program in English at Anadolu University. Students are allowed up to 2 years to complete the preparatory program.
Payment to Anadolu University is paid in Turkish Lira while tuition and fees for Empire State College courses are paid in US Dollars. Registered students take all AU courses at Anadolu University, Yunus Emre Campus (Eskişehir). '
For more information about this program please click here.
All Programs