News and Announcements / We congratulate the Turkish students who won gold and bronze awards at the Genius Olympics in the USA!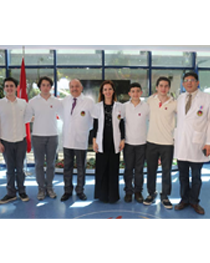 The students from TED Antalya College achieved great success by winning gold and bronze medals in two separate projects at the 'International High School Project Competition' at the State University of New York at Oswego.
Organized for high school students in the US, the 'Genius Olympics' is coordinated under five different categories and 2,504 projects from 54 countries participated in last year.
While the high school students Mehmet Can Dursun and Irfan Efe Boztepe were awarded first prize with the wound band projects which they produced from waste crab and shrimp shells in the science category, the nano fiber project shielding electromagnetic waves which was prepared by Baran Başkan and Ata Özlük was the third in the world.
The winner Project, 'Biodegradable/biocompatible wound band made of waste crab and shrimp shells' brought a scholarship at SUNY Oswego to the students from Antalya.
We congratulate these successful students and their trainers who have won awards in the competition, and we wish the success to continue.