About SUNY
Welcome International Students!
The State University of New York (SUNY) welcomes and supports students from all over the world. Of our more than 467,000 total students, nearly 23,000 are international students from 160 nations around the globe. Read on to find out why international students – like you – choose SUNY.
Choice in your academic program
SUNY offers over 5,000 undergraduate degree and certificate programs. Do a search now to find your program of interest. Find programs in business, engineering, science, technology, math and many more.
Are you graduate student? Click here to go to the graduate program search.
Quality
Study at SUNY and work with world-renowned professors, researchers, Nobel Laureates and Pulitzer Prize winners. You can even check out SUNY's reviews from U.S. News and World Report, Princeton Review, Kiplinger's Personal Finance Magazine, Intel, and Fiske Guide to Colleges.
A Famous Brand
Every student who finishes a degree program at one of SUNY's 64 campuses will receive a diploma from "The State University of New York." Think of the opportunities you will have with a qualification from one of the largest and most prestigious university systems in the world!
A Famous Location
New York State is the World's 11th largest economy. You will find everything you want in New York State – metropolitan cities, beautiful mountains, quaint rural villages, and world-class beaches. Find a perfect campus match based on your ideal living environment - urban or rural, small town or large city. Soon you'll be joining us in saying "I LOVE NY."
Student Support Services
SUNY campuses offer a range of academic and social support services to assist students. For our international students, we offer help from the moment you step off the plane, to your first day on campus and throughout your studies.
Cost
SUNY is a public university system. We receive funding from New York State. Our tuition and fees are low, especially when compared to other universities in the U.S. Learn more about the cost to attend SUNY.
Explore More Opportunities at SUNY
Next Steps
Your homework as a prospective international SUNY college or university student:
Resources for More Information
If you need more assistance, please consult the following resources for guidance:
SUNY Recruitment Response Center - Telecounselors are available for questions related to completing and submitting an application for admission, exploring programs of study, and obtaining information about individual campuses. They also respond to e-mail and live chat inquiries.
SUNY campus Admissions Offices - Provide direct contact with counselors who can answer questions about academic programs, admissions criteria, and student life. Campus admissions staff attend select college fairs and high schools throughout the year. SUNY campus Web sites also provide valuable information.
EducationUSA - Overseas Educational Advising Center in your home country.
Below is a map of the SUNY campuses.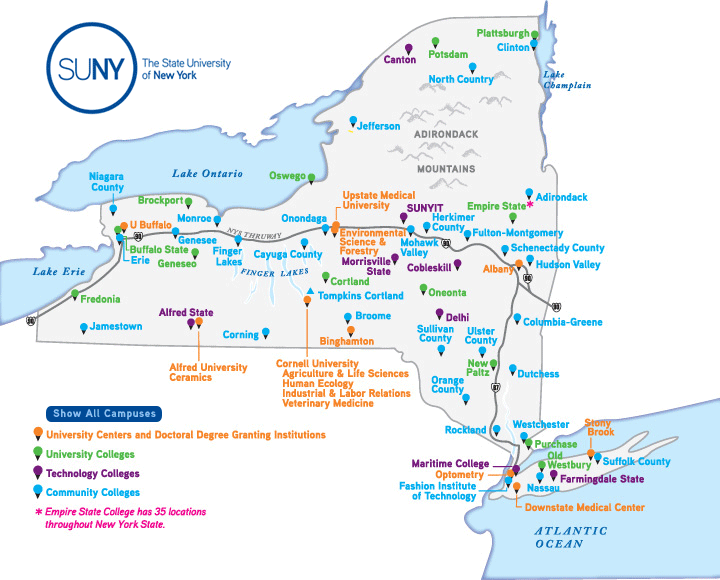 Please click here for campus distances to New York City.